ASL Movie: "Wrong Game", Friday, May 2nd 5 pm at SFCC.
The movie is with all Deaf actors signing in ASL. $5.00 admission.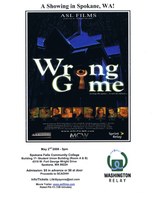 "The movie which will be at SFCC on May 2 from 5 to 7 pm.   Also, we have reserved a room at Old Spaghetti Factory for us to have dinner there at 8 pm following the movie.  Please RSVP to:
infodesk at ewcdhh dot org
and/or send a check to:  Info Desk at EWCDHH, 1206 N. Howard, Spokane, WA 99201 and/or call 509-328-9220.
FYI. the movie has all deaf performers using ASL.  There will be no spoken words or any captions on this movie.  Proceeds will go to SCADHH.
Eastern WA Center for the Deaf & Hard of Hearing.
1206 N. Howard
Spokane, WA 99201
509.328.9220 V/TTY
509.327.4622 FAX 
For interpreter services call:
509.328.3728 V/TTY
For after hours interpreter services call:
509.990.9674 "
Here is the link to see the movie trailer:
http://www.aslfilms.com/index.php/lib/flvplayer/13/
(requires Flash player)

Many thanks to Joyce for the heads up and to Kellie Marie for forwarding this info from Char.


Be sure to spread the word!
Hope to see you there.