Deaf Magician Sammy Ruiz Jr
November 22nd 2008 : SCADHH Presents Deaf Magician Sammy Ruiz Jr and 100th anniversary party. November 22nd is the SCADHH's 100th anniversary party! At 2pm they are proud to present World Champion Deaf Magician Sammy Ruiz Jr. at SCC in the Lair.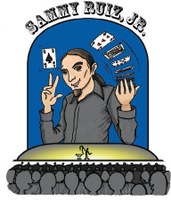 Following this event is a wine and cheese tasting at 4pm
at EWCDHH (Eastern Washington Center for the Deaf and Hard of Hearing)
1206 N Howard St Spokane, WA 99201-2410 / 509 328 9220 

Tickets are $10 for adults,  Children 6-12yo are $8, and children under 5 are free!

This should be a spectacular event, and a wonderful celebration of
SCADHH's contribution to the community over the last 100 years. Hope to
see you there!
P.S. Many thanks to Rebecca for sending this reminder.
P.P.S. Everyone please feel free to post any announcements related to ASL or the great Spokane area Deaf community by sending email to hawke at spokaneasl dot com.