Reminder: Weekly ASL Study Group - Saturdays 4 pm at Garland Rocket Bakery.
Just a quick reminder to let everyone know that the weekly study group is doing well. We have many regulars now. All levels welcome. Typically absolute beginner signing during first half hour, with steadily increasing complexity as the session progresses, ending with full signing conversations.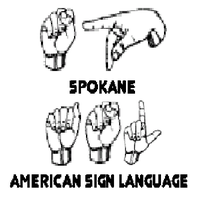 Just a reminder about the weekly Saturday ASL study group. We meet every Saturday from 4:00 pm to 5:30+ pm at the Garland Rocket Bakery.
You can download the latest study guide here: http://www.spokaneasl.com/study-guide
All levels welcomed. We start out for absolute beginners with finger spelling, then core "survival signs", then build vocabulary, then basic sentence structure and application, then short stories in sign, then wrapping up with full stories and signing chat for advanced signing.
Happy Signing!