Gloves that 'speak' sign language earn prize for UW student inventors
Thanks to Katy for pointing this out: "This my be controversial, but is interesting nonetheless."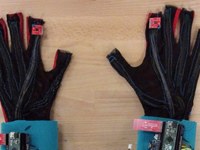 Original article URL: http://www.king5.com/tech/gloves-that-speak-sign-language-earn-prize-for-uw-student-inventors/238123084
Archived below in case URL moves/disappears:
SEATTLE – Two University of Washington sophomores have won a $10,000 prize for creating gloves that can translate sign language into speech.
Navid Azodi and Thomas Pryor's "SignAloud" gloves can recognize the hand and finger motions made by the wearer. Those are translated and sent wirelessly to a computer which then plays the words through a speaker.
"Our gloves are lightweight, compact and worn on the hands, but ergonomic enough to use as an everyday accessory, similar to hearing aids or contact lenses," said Pryor, who is studying aeronautics and astronautics engineering.
"Our purpose for developing these gloves was to provide an easy-to-use bridge between native speakers of American Sign Language and the rest of the world," said Azodi, who is studying business administration.
Azodi and Pryor just won the Lemelson-MIT Student Prize in the "Use It" undergraduate category, which recognizes technology-based inventions to improve customer devices. The pair beat out 77 other entries from across the country.