Deaf Center Halloween Party October 30th, 6:00 pm
EWCDHH 1206 North Howard is having their annual Halloween Party, Spook Alley, and raffle drawing. Be sure to drop by 6:00 pm.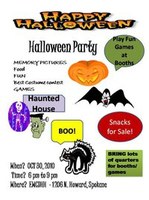 This is a fin even for all ages and open to everyone.
There is a spook alley, food, games, general fun, and a raffle. The Raffle drawing is at 8:30 pm.
Drop on by and have some fun!
EWCDHH website:
http://www.ewcdhh.org
EWCDHH Facebook page for Halloween Party:
http://www.facebook.com/event.php?eid=116162475111720&ref=mf