Spokane Deaf Coffee Chat - 2nd Thursday Each Month 6-9 pm.
Join the monthly Spokane Deaf Coffee Chat at time and location: Starbucks across from North Town Mall, 2nd Thursday of each month, 6-9 pm.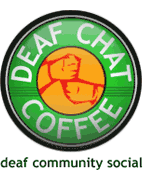 WHEN: 6:00 pm to 9:00 pm on the Second Thursday of each month.

WHERE: Starbucks, 4727 N. Division St, Spokane, WA
Optional: RSVP on our Meetup page: http://www.meetup.com/spokaneasl
Members of the Deaf, Hard of Hearing, and Signing-hearing community come on over and chat.
Spread the word!
If you have any questions you can post comments here, or you can email: spokaneasl at gmail dot com.
Happy Signing!
Website: www.spokaneasl.com
Twitter: @spokaneasl
Facebook: https://www.facebook.com/spokaneasl