Through Deaf Eyes - Show Taping
"THROUGH DEAF EYES" CHRONICLES 200 YEARS OF DEAF LIFE IN AMERICA Airdate/time: March 21, 2007, 9 p.m. ET SCC will be taping the following show: "Through Deaf Eyes"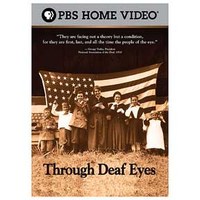 "THROUGH DEAF EYES" CHRONICLES 200 YEARS OF DEAF LIFE IN AMERICA

─ First Comprehensive Film on Deaf History Premieres on PBS March 21, 2007 ─  

"Through Deaf Eyes" is a two-hour HDTV documentary for PBS exploring nearly 200 years of Deaf life in America.  The film presents the shared experiences of American history – family life, education, work, and community connections – from the perspective of deaf citizens.  Interviews include community leaders, historians, and deaf Americans with diverse views on language use, technology and identity. Bringing a Deaf cinematic lens to the film are six artistic works by Deaf media artists and filmmakers. Poignant, sometimes humorous, these films draw on the media artists' own lives and are woven throughout the documentary.  But the core of the film remains the larger story of Deaf life in America -- a story of conflicts, prejudice and affirmation that reaches the heart of what it means to be human. "Through Deaf Eyes" will be broadcast nationally on PBS on Wednesday, March 21 at 9 p.m. ET (check local listings).

            "Through Deaf Eyes" does not approach the topic of deaf history from the perspective of sentimentality or overcoming, nor does it deny the physical reality of being deaf.  The documentary takes a straight-forward look at life for people who are part of the cultural-linguistic group who use American Sign Language and often define themselves as "Deaf" with a capital, and cultural, "D" and deaf people who, for a variety of reasons, do not identify with the Deaf cultural community.  The history often shows that intersections between deaf and Deaf people are many and that oppression and discrimination are common experiences. 

            The film is full of surprises, including a Deaf rock band.  Little known are the many Deaf stories about attempts to be "cured" through religious healings, diving airplane rides, electrical impulses, and even the thrill of meeting a baseball hero.  These puzzling events in the lives of Deaf people demonstrate a complex relationship with hearing society.          

"Through Deaf Eyes" shows the broad sweep of U.S. history intersecting the experiences of Deaf people.  Education has been perhaps the issue in this story. "Through Deaf Eyes" traces the evolution of deaf education, from the founding of the first school for the deaf in 1817 to the 1864 chartering of Gallaudet University, the only place that deaf people could earn a college degree in a signing environment, to the late-20th century "mainstreaming" movement.

"Through Deaf Eyes" explores the enduring linguistic debate on how to educate deaf children, examining the reasons behind it and leaders on both sides of the argument.  The strongest proponent of oral education was Alexander Graham Bell.  He argued that deaf children should be instructed using a pure oral method, with no signs.  Further, Bell stated that deaf people should not teach deaf children, as they would introduce sign language and could not instruct during speech lessons.  His ideas were widely accepted.

Bell studied eugenics, the science of improving a species.   In 1884 he warned that the formation of a "deaf race" was underway and pointed to the growing number of Deaf clubs, churches, schools, and social events.  Bell suggested that deaf people should not marry each other and proffered ways to prevent connections between deaf people.  

"Through Deaf Eyes" brings to light the efforts by Deaf leadership to address the systematic suppression of language and other barriers.  The National Association of the Deaf, founded in 1880, began to preserve language on film.  Their charismatic president, George W. Veditz, spoke out forcefully on issues of language, education, and employment for deaf people.  By 1910 the organization feared that sign language would be gone and filmed master signers in order to preserve "the natural language of the deaf."  Veditz and many other leaders argued that oral communication alone was inadequate.    

Through much of the 20th century, most deaf children started their education in an oral classroom, though often signing was still the method of communicating in school dormitories.  It was not until the 1960s that research into the grammar and structure of signing prompted many to begin to see that visual signs were indeed a language.  William Stokoe, a hearing professor at Gallaudet, researched hand shapes, movements, and placement of signs and came to a radical conclusion at the time: that sign is a language, with all the richness and nuance of spoken languages.  This revelation would prompt greater analysis of language, community, and identity.  

Technology also played a hand in social change for deaf people.  The invention of teletype machines that could communicate across phone lines made it possible for deaf people to "talk" to each other.  Captioning provided new access to information such as the evening news.  Technology also created controversy.  "Through Deaf Eyes" explores the issues surrounding cochlear implants, now used by more deaf children and adults than ever before.  The film explores both sides of the issue, presenting frank conversations with deaf people who use cochlear implants and those who do not, and with parents who often struggle to make the best decisions for their deaf child.  

Deaf experiences have most often been portrayed in film as isolated and tragic, but Deaf life burst upon the popular culture with TV and stage presentations by the National Theatre of the Deaf in the 1960s.  Later, the success of "Children of a Lesser God," first on Broadway and then in a feature film for which Marlee Matlin won an Oscar, further brought Deaf life and American Sign Language to the public. 

In one of the more dramatic and inspirational events in this chronicle, students, faculty, staff and alumni at Gallaudet University protest the 1988 selection of a hearing president, demanding a "Deaf President Now."  The protesters gain widespread public support for this civil rights struggle, and their demands are met with the appointment of Dr. I. King Jordan in what was a galvanizing moment for Deaf society.  "Through Deaf Eyes" offers an inside perspective by some of the protest leaders.

In the rapidly changing world the Deaf community has experienced revolutions of place, language, identity, and access.  These revolutions have deep historic roots and profound individual impact.  Personal interpretations of Deaf life are brought to the film by the six filmmakers: Wayne Betts, Renee Visco, Tracey Salaway, Kimby Caplan, Arthur Luhn, and Adrean Mangiardi.  These extraordinary artists introduce a Deaf frame of reference behind the documentary camera.  To most people, "deaf" means to not hear.  To Deaf people and these Deaf filmmakers, it means much more. 

            A comprehensive Web site, found at www.pbs.org, accompanies the film. The site includes interviews with the deaf filmmakers whose work is featured in the documentary, while also inviting viewers to submit their own stories, photographs, and films. These will become part of the archival collection of Gallaudet University.  A companion book is being published by Gallaudet University Press.
 
            Major funding for "Through Deaf Eyes" is provided by the National Endowment for the Humanities, Corporation for Public Broadcasting, PBS, The Annenberg Foundation and the National Endowment for the Arts. Private individuals have also contributed to the funding of this project.  The extensive outreach campaign is funded in part by Sign Language Associates.  Outreach partners are the National Association of the Deaf, Gallaudet University, the National Technical Institute for the Deaf at Rochester Institute of Technology, and California State University-Northridge.  As part of the outreach campaign, numerous local organizations, some in association with their public television stations, will mount events and discussions exploring the issues raised in the film.

            The film was inspired by the exhibition "History Through Deaf Eyes," curated by Jack R. Gannon at Gallaudet University. "Through Deaf Eyes" is a production of WETA Washington, D.C., and Florentine Films/Hott Productions in association with Gallaudet University.  The producer is Emmy and Peabody Award winner Larry Hott.  The editor is Diane Garey.  The writer is Ken Chowder. The executive producers are Karen Kenton and Dalton Delan, WETA.  The project director at Gallaudet is Jean Bergey.  Senior advisor to the project is Harry G. Lang, professor in the Department of Research and Teacher Education, National Technical Institute for the Deaf at Rochester Institute of Technology, and the author of many books on deaf history. 

WETA Washington, D.C., is the third-largest producing station for public television.  WETA's other productions and co-productions include "The NewsHour with Jim Lehrer," "Washington Week with Gwen Ifill and National Journal," "In Performance at the White House," and documentaries by filmmaker Ken Burns, including "The Civil War," and coming September 2007, "The War."  Sharon Percy Rockefeller is president and CEO.  More information on WETA and its programs and services is available on the Web site at www.weta.org.